""MY SITE IS NOW ONLY FOR INFORMATION AND REFERRALS AS I AM RETIRED FROM RESCUING AND BREEDING FERRETS""
My name is Debra Sadowski and I had operated a rescue from July 1998 to December 2013 and had been breeding ferrets since December 1998. I "closed" my rescue in December of 2016 and am "no longer" breeding.
. IMPORTANT: "For all persons living in New Jersey, PLEASE read my section on New Jersey Fish & Wildlife Permits for Ferrets." If you have any questions about New Jersey ferret laws and ownership, please contact Linda or Jane (NJ F&W Permit Office) at (908)-735-5450 they will be very happy to answer any questions you may have.
I am a LOS National Senior Ferret Judge. I'm the only inventor and maker of the "Fuzzy Loving Ferrets Dry Bath Kit" as well as the "Angel Ferret", "Bridal Ferret","Witch Ferret" & "Devil Ferret" tree & table toppers that can be made to order. I also make polar fleece & polycotton "Bean Bag Pillows" (MY design is exclusive to my rescue.), sleep sacks & polar fleece toys in bright colors, patterns and sizes and now Jewelry.
You can e-mail me at fuzzylovingferrets@yahoo.com for information or referrals to a ferret rescue or breeder in your area.
Thank you for visiting my site and please remember to sign my "Guest Book" but PLEASE no spamming and do not post anything unless it about ferrets or my site.
****If you are looking to adopt a rescue I can refer you to one close to where you are and do usually refer NJ adopters to Scales & Tails in the Randolph/Succasunna, NJ area****
If you have questions please contact me at fuzzylovingferrets@yahoo.com
Thank You,
Debi & the Fuzzy Loving Ferret Furkids
Debi Sadowski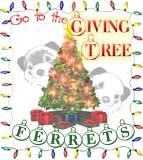 http://ferretgivingtree.com/